Jewelry Appraisals
An appraisal report upon your jewelry item or collection should be one of your most important documents. There are several reasons for seeking an appraisal upon your most valued possessions and it is up to the certified appraiser to assess which type of value should be used in your personal appraisal report.
18 Karat Appraisers offer a discreet, secure office laboratory by appointment only in the heart of Beverly Hills for your jewelry appraisal needs. We also offer a portable gemological laboratory when an in-house call is preferred. 18 Karat Appraisers give you an independent opinion of value upon your jewelry pieces where our only goal is to provide you with the most up to date and accurate valuation on your jewelry for your specific purpose. Some of the most common reasons for having your jewelry appraised are as follows:
Purchase/Sale Related Reasons
Quality Assessment (Did I get what I paid for?)
Sale Price Assessment (How much can I sell my jewelry for?)
Insurance Related Reasons
Insurance Scheduling
Insurance Claims After Loss
Damage Report (Evaluation for level of damage, repair, or replacement)
Estate Related Reasons
Estate Planning/Trust Formation
State probate for estates with a will
Equitable Distribution of Property between Heirs
Liquidation Related Reasons
Resale of property
Forced / Orderly Liquidation of Jewelry
Liquidation Related Reasons
The jewelry will be identified in regards to the workmanship, the state of condition, the gemstones held within it, the designer, the carat weight, the materials used, as well as any other elements affecting its value.

What is a certified Jewelry Appraiser?
A certified jewelry appraiser is one who is in the business of estimating the worth or value and quality of jewelry pieces that include rings, bracelets, earrings, watches, cufflinks, brooches, pendants, etc. A certified appraiser delivers unbiased insight and valuation conclusions, and is often the only independent party in a subject engagement, whether it is a transaction, litigation dispute, strategic planning decision, etc. Because it is up to the consumer to ultimately select and hire a qualified appraiser, a question that often arises in selecting an appraiser is - how do I assess the quality, capability and suitability of an appraiser for my specific need?
18 Karat Appraisers offers their vast knowledge, experience, and designations as ASA (American Society of Appraisers), ISA (International Society of Appraisers), and NAJA (National Association of Jewelry Appraisers) members to help ease your decision in choosing a suitable appraiser for your jewelry needs.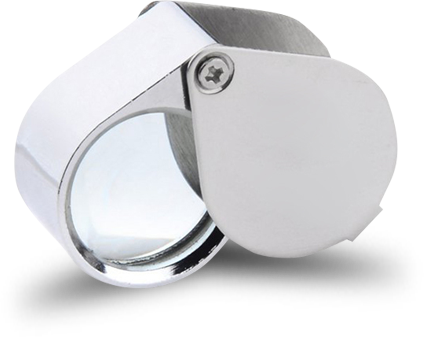 For personal assistance in all jewelry appraisal related issues, please contact us.
(310) 278-1022

contact@18karatappraisers.com